This post may contain affiliate links. If you buy thru these links, we may earn a commission at no additional cost to you.
---
The very first (or very last, depending on which direction you're heading) gas station on the Natchez Trace Parkway is the Shell Station near the intersection of Highway 100 and the Natchez Trace Parkway.
There is also a cut-through to/from Bellevue using McCrory Lane, which intersects Highway 100 right next to the Shell Station.
To See & Do…
This same intersection (Highway 100 / McCrory Lane / Natchez Trace Parkway) is the site of what is probably the second most-photographed bridge on the Natchez Trace.
This bridge supports the northernmost tip of the Natchez Trace itself.
Inside the Shell Station is one of my favorite Nashville restaurants: Bar-B-Cutie. (They make your food to order, so everything hot, hot, hot! And they have huge baked potatoes. Plus, they're the only "fast food" restaurant that I know of with fried okra!)
The Shell Station is also adjacent to the infamous Loveless Cafe. (Good food and good shops.)
Needless to say, there's plenty to see and do at the northernmost tip of the Natchez Trace Parkway. You can fill-up your car with gas. You won't go hungry… or thirsty. And you can even do a little shopping!
How To Get There
The Shell Station is technically in Bellevue, though its official address is:

8456 Highway 100
Nashville, TN 37221
Phone: (615) 646-1052
Hours of Operation: Monday thru Saturday 6:00 a.m. to 9:30 p.m.
Sunday 7:00 a.m. to 8:30 p.m.
There is plenty of parking at the Shell Station, as well as at the adjoining Loveless Cafe. This is a very popular spot for travelers on the Natchez Trace Parkway — including motorcyclists and bicyclists (who often park their cars here while they're biking).
Inside the Shell Station, the restrooms are extremely clean. And in the heat of the summer, this is the coolest spot in town!
A View Of The Area…
Here's a view of the Shell gas station as you're driving away from the Natchez Trace Parkway heading east on Highway 100 (left photo) and as you're driving toward the Natchez Trace Parkway heading west on Highway 100 (right photo).
FYI: There is another gas station 2 miles in either direction past the Shell Station on Highway 100. To the west is Anderson's Market & Deli (BP gas station with the lowest price gas in town!) To the east is a little shopping hub with grocery stores, gas stations, and more.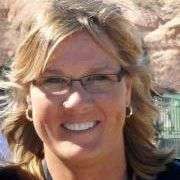 We've lived in the Nashville area since 2001 — and all 3 of our houses have been situated relatively close to the Natchez Trace Parkway. To me, the 'The Trace' is a hidden gem of Nashville — a place to go when you want to get away from it all and be one with nature. I've hiked it, biked it, motorcycled it, walked it with my dogs, and driven my car on The Natchez Trace Parkway more times than I can count! This is where I share some of my favorite things to do along the Natchez Trace Parkway — which runs 444 miles from Nashville Tennessee to Natchez Mississippi and through parts of Alabama. When I'm not enjoying the beautiful outdoors along the Natchez Trace Parkway, you'll find me at the corner of Good News & Fun Times as publisher of The Fun Times Guide (32 fun & helpful websites).