---
Some articles on this site contain affiliate links. If you purchase through these links, we may earn a small commission at no additional cost to yourself.
---
This is one of the Natchez Trace Parkway's hidden gems, if you ask me.
No, not the Garrison Creek comfort station with restrooms and water fountains (though those are nice too)… but rather the tiny little creek that becomes a rapidly moving stream at certain times of the year.
Here's why I think the Garrison Creek area is so special…
Garrison Creek Comfort Station
Yes, there's the Garrison Creek comfort station right there.
It's one of the nicest stopping places along the Natchez Trace Parkway, and it also has some of the nicest restrooms on the Trace (oh, and water fountains too).
During the summer months, there are people using the picnic tables under the canopy and hanging out in the lawn surrounding it.
Also during the summer months, you'll see lots of horseback riders passing through on the horse trails behind the comfort station.

Garrison Creek Hiking Areas
Along those same lines, Garrison Creek makes a great resting spot during a long hike from the Old Trace hiking trail which begins at mile marker 426.3, travels along the creek itself (Garrison Creek), and ends up at the Garrison Creek comfort station — where the final leg continues on back to the Old Trace trailhead.
We've hiked that trail a couple times…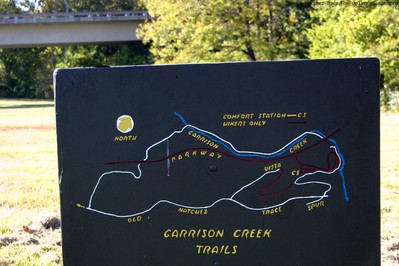 Water Fun In Garrison Creek

But my all-time favorite part about the Garrison Creek area on the Natchez Trace Parkway is the creekside picnic benches, horse corrals or posts, and a shallow creek that's fun for kids (and dogs) to play in on a hot summer day!
Relatively speaking, the waterfront area isn't all that big. When looking at the creek, there's a tunnel in the water at one end. (I've never ventured through there to see where it leads.) And at the other end, there's a deep pond that is not worthy of swimming in, followed by a very narrow creek that meanders past The Judds' homes and leads toward the Old Trace hiking trail mentioned above.
We take our dog for a ride in the Jeep along the Natchez Trace Parkway a lot. And we almost always stop at Garrison Creek to dip our toes in the creek and walk around. It's a great place to swing by if you've only got a short time to spend on the Trace.
On weekdays, there's hardly anyone around. So, it's a great place to let the dog off the leash to run and play in the wide open field that connects the Garrison Creek comfort station with the creek itself (underneath the bridge on the parkway itself).