This post may contain affiliate links. If you buy thru these links, we may earn a commission at no additional cost to you.
---
We are fortunate to live close to the Natchez Trace Parkway in Nashville. It's a true gem in terms of roadways, scenic destinations, and outdoor fun.
Over the past several years, I have spent many many hours hiking, bicycling, picnicking, motorcycling, jeeping, camping, and walking my dog there.
The Trace is one of the National Scenic Byways that passes through Tennessee, Alabama, and Mississippi. Technically, it's classified as a one of America's All-American Roads. There are fewer than 40 All-American Roads in the United States.
To be designated as a National Scenic Byway, a road must possess at least 1 of the 6 intrinsic qualities and be regionally significant. These roads are often the "roads less traveled." To receive an All-American Road designation, a road must possess multiple intrinsic qualities that are nationally significant and have one-of-a-kind features that do not exist elsewhere. The road or highway must also be considered a "destination unto itself." That is, the road must provide an exceptional traveling experience so recognized by travelers that they would make a drive along the highway a primary reason for their trip.

Source
Here are my top 10 reasons to visit the Natchez Trace Pkwy. If you haven't already, make sure you put it on your bucket list!
#1 – You can learn about the journeys of those who traveled along The Trace as far back as 800 A.D. as well as more recent travelers like Meriwether Lewis of the Lewis & Clark Expedition and President Andrew Jackson.
#2 – Enjoy a nostalgic walk and/or drive on parts of the original foot trail — a.k.a. the historic Old Natchez Trace.
#3 – Commercial traffic is prohibited on The Trace, so you're not dodging large vehicles or fast-moving traffic. There's definitely no hustle & bustle here!
#4 – The maximum speed limit is 50 mph (lower in some spots), so you're able to enjoy a leisurely drive through the beautiful countryside at your own pace. (Psst… Don't get a speeding ticket on The Natchez Trace Parkway, because it's a hefty federal fine if you do!)
#5 – There is very little traffic on the Natchez Trace Parkway, so you can feel comfortable bicycling, jogging, or even walking on the main road itself.
#6 – Since there are no billboards, signs, or traffic lights on The Trace, it's easy to take a step back in time and just enjoy the ride.
#7 – There are lots of unique places to pull-off and park so you can enjoy the sights and sounds in the area — from creekside rest areas to picnic spots, walking trails, and historic landmarks.
#8 – With plenty of roadside attractions along the Natchez Trace Parkway, there's plenty to see and do for all ages.
#9 – The Natchez Trace Parkway is dog-friendly with plenty of spots to roam and explore — including numerous creeks, bridges, and trails.
#10 – There's lodging available in the form of cabins, RV & tent camping, and bed & breakfasts. Even hotels are just a short drive away via some of the exits off The Trace.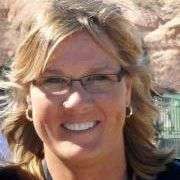 We've lived in the Nashville area since 2001 — and all 3 of our houses have been situated relatively close to the Natchez Trace Parkway. To me, the 'The Trace' is a hidden gem of Nashville — a place to go when you want to get away from it all and be one with nature. I've hiked it, biked it, motorcycled it, walked it with my dogs, and driven my car on The Natchez Trace Parkway more times than I can count! This is where I share some of my favorite things to do along the Natchez Trace Parkway — which runs 444 miles from Nashville Tennessee to Natchez Mississippi and through parts of Alabama. When I'm not enjoying the beautiful outdoors along the Natchez Trace Parkway, you'll find me at the corner of Good News & Fun Times as publisher of The Fun Times Guide (32 fun & helpful websites).