This post may contain affiliate links. If you buy thru these links, we may earn a commission at no additional cost to you.
---
Thinking about driving your RV along the Natchez Trace Parkway someday?
Before you go, check out the following review, including some important stops along the way.
Nick and Terry are full-time RVers and they document their travels on the Gypsy Journal.
What is the Gypsy Journal?
Nick and Terry rode the Natchez Trace Parkway in an RV, starting from the southernmost point in Natchez, Mississippi and ending at the northernmost tip in Nashville, Tennessee.
This is their personal report highlighting many stops along the way.
They begin with this…
The best way to experience the Natchez Trace is to follow the route the old boatmen did, from south to north. Mile markers and rustic information signs identify points of interest along the Parkway. Space does not allow us to identify every point along the Parkway, but we will include some highlights to help you plan your own trip. Starting near Natchez , Mississippi, at mile marker 8.7 a parking area provides access to a portion of the original Old Trace.
And end with this…
Mile marker 444 is the northern terminus of the Natchez Trace, and from here it is a short drive to Interstate 40 and into Nashville. If you are like us, the trip up the Natchez Trace may be over here, but the memories of your trip up this historic route will last a lifetime.
So, if you're thinking about RVing the Natchez Trace Parkway, why not take it from someone who's been there, done that? Nick and Terry have a lot of great information to share with fellow RVers on the Gypsy Journal!
For regular updates on their daily travels, check out Nick's blog!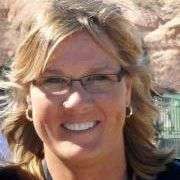 We've lived in the Nashville area since 2001 — and all 3 of our houses have been situated relatively close to the Natchez Trace Parkway. To me, the 'The Trace' is a hidden gem of Nashville — a place to go when you want to get away from it all and be one with nature. I've hiked it, biked it, motorcycled it, walked it with my dogs, and driven my car on The Natchez Trace Parkway more times than I can count! This is where I share some of my favorite things to do along the Natchez Trace Parkway — which runs 444 miles from Nashville Tennessee to Natchez Mississippi and through parts of Alabama. When I'm not enjoying the beautiful outdoors along the Natchez Trace Parkway, you'll find me at the corner of Good News & Fun Times as publisher of The Fun Times Guide (32 fun & helpful websites).