This post may contain affiliate links. If you buy thru these links, we may earn a commission at no additional cost to you.
---
I already wrote about my favorite roadtrip to take on the Natchez Trace Parkway.
My second favorite stretch of roadway along the Natchez Trace Parkway is the part that goes from Highway 96 in Franklin to just past Highway 46 exit in Leiper's Fork — heading South.
A popular turnaround spot is the Garrison Creek rest area, about a mile past the Leiper's Fork exit.
Some Hidden Gems
From the entrance ramp which connects Highway 96 to the Natchez Trace Parkway, here is what you will see as you merge onto the Parkway, and head South toward the Garrison Creek rest area:
Site #1 Ramp to Interpretive Center (on right, under construction) at milemarker 437
This should be a sweet little park area, if things go as planned.
Site #2 Parkway Pull-Off (on left) at milemarker 435.5
A great place to park your car, rest your legs or walk around a bit. This parking area is on a hill that overlooks the Parkway itself. It's not unusual to find people watching the passing motorists, bicyclists, and motorcyclists.
Site #3 Long and Curvy Bridge at milemarker 430.8
It seems like a long way (almost 5 miles) until you reach this bridge that offers great views, both coming and going. Leading up to the bridge itself is a lot of twisty and hilly roadway.
Site #4 Leiper's Fork District Office (on right) at milemarker 429.5
This is a great place to pull off if someone is on your tail, while you're content to go the speed limit (40mph up to this point; it becomes 50 mph right after the next milemarker).
Site #5 Bridge & Highway 46/Leiper's Fork Exit (on right) at milemarker 429
Another bridge that's best viewed from the roadway below it (Pinewood Road/Highway 46). This exit leads you into the fascinating little town of Leipers Fork, Tennessee. Lots of antiques, and slow-moving sightseers.
Site #6 Garrison Creek Rest Area (on left) at milemarker 427.6
Garrison Creek is a place where you can do it all: Ride your horse. Dip your toes in the creek (or let your children or dogs take a quick swim there). Use the public restrooms (very clean!). Enjoy a picnic (there are grills and picnic tables near the water.) Walk through the fields along the creek. Take a long hike. Or just park and enjoy the view.
See more hidden gems from Highway 96 in Franklin to Highway 100 in Bellevue, heading North.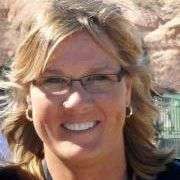 We've lived in the Nashville area since 2001 — and all 3 of our houses have been situated relatively close to the Natchez Trace Parkway. To me, the 'The Trace' is a hidden gem of Nashville — a place to go when you want to get away from it all and be one with nature. I've hiked it, biked it, motorcycled it, walked it with my dogs, and driven my car on The Natchez Trace Parkway more times than I can count! This is where I share some of my favorite things to do along the Natchez Trace Parkway — which runs 444 miles from Nashville Tennessee to Natchez Mississippi and through parts of Alabama. When I'm not enjoying the beautiful outdoors along the Natchez Trace Parkway, you'll find me at the corner of Good News & Fun Times as publisher of The Fun Times Guide (32 fun & helpful websites).