This post may contain affiliate links. If you buy thru these links, we may earn a commission at no additional cost to you.
---
At the request of Mike and others, I took a trip out to the Natchez Trace Parkway this morning to see what I could see in terms of Fall colors.
Peak Fall foliage colors are right around the corner, but they're not here yet.
To give you some idea, this is the tree (on the left, near the utility boxes) in my neighborhood that I always gauge "peak season" from — in Franklin, TN. The first photo was taken this morning. The other 2 were taken at the end of last year's Fall foliage season.
It was a beautiful blue-sky day, a tad chilly at 56 degrees, and a few leaf-peepers were driving along the parkway in search of beautiful Fall colors.
Unfortunately, it appears that we're still a week or so away from peak colors here on the north end of the parkway.
All of the following photos were shot through my Jeep's windshield (as most of the photos I've taken on the Natchez Trace Parkway have been), and I can definitely say there were no "ah-ha" moments on this trip. No jaw-dropping scenery that made me stop and take more photos. No beautiful reds and oranges.
There's still a lot of green and yellow at this point.
There are a fair amount of leaves on the ground, but only in places. And nothing like during peak season last year!
The biggest sign that we're not a peak Fall foliage colors yet, was the sheer number of tall trees still filled with green leaves.
I'm sure the weather has had a lot to do with this year's strange and spotty Fall foliage. For starters, we had an exceptionally DRY summer. Then again, so did Indiana I'm told, and their fall colors were so much more vibrant last week when I was there.
Anyhoo… I've made a note to drive back out to the Natchez Trace Parkway in a week so see what's changed. I'll post another update then.
Until then, enjoy these semi-colorful photos taken this morning on the Natchez Trace Parkway…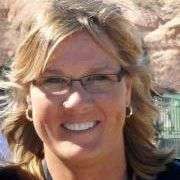 We've lived in the Nashville area since 2001 — and all 3 of our houses have been situated relatively close to the Natchez Trace Parkway. To me, the 'The Trace' is a hidden gem of Nashville — a place to go when you want to get away from it all and be one with nature. I've hiked it, biked it, motorcycled it, walked it with my dogs, and driven my car on The Natchez Trace Parkway more times than I can count! This is where I share some of my favorite things to do along the Natchez Trace Parkway — which runs 444 miles from Nashville Tennessee to Natchez Mississippi and through parts of Alabama. When I'm not enjoying the beautiful outdoors along the Natchez Trace Parkway, you'll find me at the corner of Good News & Fun Times as publisher of The Fun Times Guide (32 fun & helpful websites).