This post may contain affiliate links. If you buy thru these links, we may earn a commission at no additional cost to you.
---
Well, here's something you don't see every day…
Yep, on the Natchez Trace Parkway you can be one with nature, wildlife, and cows!
These cows were grazing within a few feet of the Parkway itself.
They had obviously escaped from some nearby fenced-in farmland.
Lots of us drivers were slowing down, in fear that they were going to cross the road.
The overly prepared one that I am, I had the Natchez Trace Parkway Emergency number (800) 300-7275 programmed into my cellphone (for those times when I'm out cycling on the Trace), so I phoned in this non-emergency emergency.
Them: Natchez Trace Parkway. What is your emergency.
Me: Well, I'm not sure if this is an emergency or not, but there are 4 cows grazing on the Parkway.
Them: Where?
Me: Between milemarker 414 and the bridge/overpass.
Them: Dang. That's the same place we were called about yesterday. Thank you.
Just another interesting Sunday afternoon on the Natchez Trace Parkway. You never know what you'll see next!…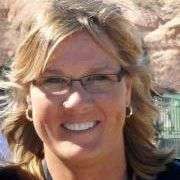 We've lived in the Nashville area since 2001 — and all 3 of our houses have been situated relatively close to the Natchez Trace Parkway. To me, the 'The Trace' is a hidden gem of Nashville — a place to go when you want to get away from it all and be one with nature. I've hiked it, biked it, motorcycled it, walked it with my dogs, and driven my car on The Natchez Trace Parkway more times than I can count! This is where I share some of my favorite things to do along the Natchez Trace Parkway — which runs 444 miles from Nashville Tennessee to Natchez Mississippi and through parts of Alabama. When I'm not enjoying the beautiful outdoors along the Natchez Trace Parkway, you'll find me at the corner of Good News & Fun Times as publisher of The Fun Times Guide (32 fun & helpful websites).