This post may contain affiliate links. If you buy thru these links, we may earn a commission at no additional cost to you.
---
As long as I've lived in Middle Tennessee, this is one of the first times that I've seen peak autumn colors arrive so early — before the end of October.
Usually, fall begins to show its colors around here somewhere between mid- to late-October, and the fall foliage is typically the most vibrant anywhere from early- to mid-November.
As seen in the following photos however, you can see what a difference a day makes!
The weather throughout the year, as well as recent weather in the immediate area can have a dramatic impact on how colorful the leaves are, when they start changing, and how long they stick around. So it's difficult to predict exactly when the leaves on the trees will look their absolute best at this time each year.
Case in point: Last night and the night before, we had some serious storms around here — with a lot of wind and rain and several tornadoes in the surrounding areas. Unfortunately, that kind of weather wreaks havoc on delicate colorful leaves!
The same thing happened in various parts of the U.S. this year, including Ohio:
Windy and stormy conditions are bringing the fall foliage season to a close this week. Recent rain and winds have been bringing down a lot of leaves across the state over the last week. Most Ohio state parks and forests are reporting that peak fall color is over and leaves are expected to start or continue falling this weekend. "This year's fall color season was much different than what we normally expect," said Casey Burdick, fall foliage expert for the Ohio Department of Natural Resources Division of Forestry. "Ohio started with drought stressed trees in mid-September showing early color, then nearly the entire state peaked showing a brilliant display around the second week in October. Lack of rain and strong wind events have shortened our usual 5 to 6 week fall color season. Source
Here's an update on this year's fall colors along the Natchez Trace Parkway, along with the fall foliage pictures I took today…
Colorful Leaves That Remained After The Storm
Here it is the last week of October and most (but not all) of the colorful leaves are gone now.
There are still a handful of very bright, very red colored leaves that managed to weather the previous nights' storms. And it's a real treat to come upon one of those patches of bright red here and there.
At the moment, there are a few more trees with very bright, very orange colored leaves that still have most of their leaves. That too, is a brilliant sight to see — especially since those happen to be some of the largest, most majestic trees along the Natchez Trace Parkway.
I didn't travel very far south on the Trace today, but I can tell you that the trees with the most leaves still on their branches and the largest patches of vibrant colors still intact are at the northernmost end of the Parkway.
Best Place For Colorful Photo Backdrops
The place that has the greatest number of colorful trees in one area, year after year, is the pull-off near mile-marker 439.4.
That's where you'll almost always find professional photographers capturing nature's beauty during the Fall. And that's where I always gravitate to when I want to see the biggest and brightest colored trees on the northern end of the Natchez Trace Parkway.
The best way to recognize this park-like pull-off is to look for the sign at the entrance which says the area is open from sunrise to sunset.
First, you approach a small parking lot on a hill overlooking the Trace itself. Then, if you continue driving, there are a few parking spaces available for longer-term parking. Finally, at the end of this road, there is a beautiful overlook along with a number of parking spaces. People sometimes picnic here, take pictures, or just enjoy the view.  Source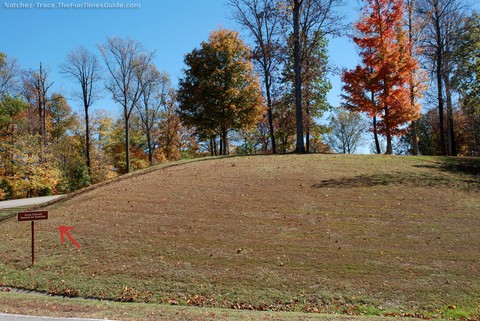 Tennessee Fall Colors Are Definitely A Must-See
Whether you live in Middle Tennessee, or somewhere else nearby, it's definitely worth a drive to the Natchez Trace Parkway (especially, the northern end from Bellevue to Leipers Fork) to see nature's palette at its finest.
If you're planning your visit, I would recommend scheduling your trip somewhere between late October and early November.
For up-to-date fall foliage reports, the folks at the Natchez Trace Parkway Visitor Center have always been helpful and receptive to my questions. Perhaps they'll be able to provide you with a current update. You can reach them at 1-800-305-7417 daily from 8AM to 5PM (Central).
In case you're wondering, here's what the fall foliage is like right now in East Tennessee, including the Great Smoky Mountains. You can reach them at 1-865-436-1200.
Here's a report on the fall colors in the southern region of the United States (including the entire state of Tennessee), according to the U.S. Forest Service. The U.S. Forest Service Foliage Hotline is 1-800-354-4595.
Here's more about the leaves changing colors in Tennessee.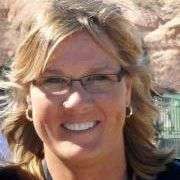 We've lived in the Nashville area since 2001 — and all 3 of our houses have been situated relatively close to the Natchez Trace Parkway. To me, the 'The Trace' is a hidden gem of Nashville — a place to go when you want to get away from it all and be one with nature. I've hiked it, biked it, motorcycled it, walked it with my dogs, and driven my car on The Natchez Trace Parkway more times than I can count! This is where I share some of my favorite things to do along the Natchez Trace Parkway — which runs 444 miles from Nashville Tennessee to Natchez Mississippi and through parts of Alabama. When I'm not enjoying the beautiful outdoors along the Natchez Trace Parkway, you'll find me at the corner of Good News & Fun Times as publisher of The Fun Times Guide (32 fun & helpful websites).